Connect WooCommerce
Last Updated:
April 01, 2019
Section 1: Connecting WooCommerce through Unific
From the Unific login page, you will need to click on the (+) Connected accounts icon

Select the "Add Account" tab
3. Click on the WooCommerce shopping cart
4. You will now be prompted to enter the store URL, consumer key and consumer secret from your WooCommerce admin section as shown below;
4a. Add the Store URL- this is the domain where WordPress and the WooCommerce are installed. Please follow this format http://storeurl.com or https://storeurl.com
4b. Add the Consumer Key and Consumer Secret follow the instructions below;
Open a new browser tab/window and be sure to keep the current tab open so that you can come back to it.

Log in to your Woocommerce administration section.

Navigate to the WordPress user administration screen by clicking on "WooCommerce" in the WordPress main menu and select "Settings"

Once on the edit user screen, select the "Advanced" tab then click on the "REST API" icon next to webhooks.

Click on the "Add Key" Icon
Note: Keys/Apps was found at WooCommerce > Settings > API > Key/Apps prior to WooCommerce 3.4.
Add a Description (we recommend labeling as Unific)
Select the User you would like to generate a key for in the dropdown.
Select a level of access for this API key — Read access, Write access or Read/Write access.
Please make sure to give Read/Write access to Unific user in order to write the webhooks to your WooCommerce store without which the sync may not be guaranteed.
Select Generate API Key, and WooCommerce creates API keys for that user.
5. A new screen will pop up that will display the Consumer Key and Consumer Secret that you will copy and paste into the Unific portal and select "Connect"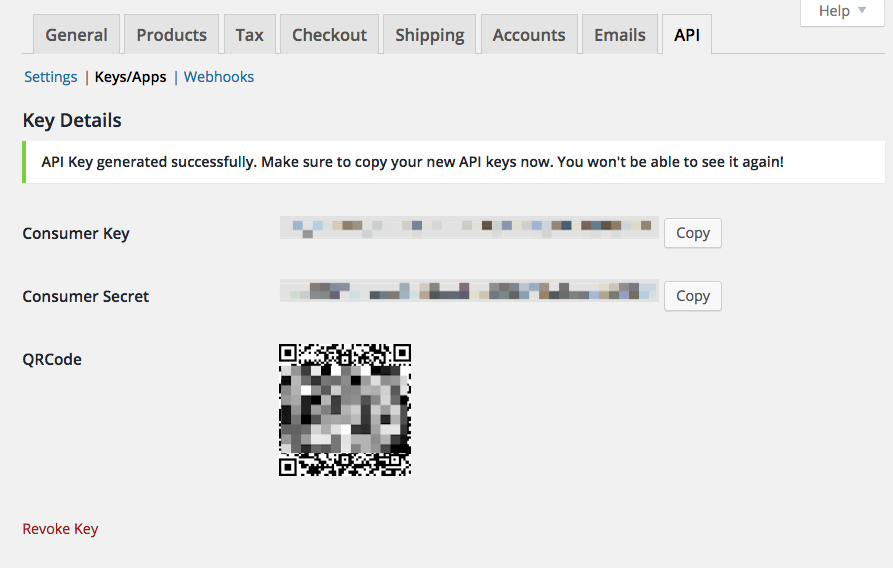 Section 2: Enable the REST API
If you do not enable the REST API, no order data will sync to your Hubspot portal.
Section 3: Installing the Unific Extension in your Wordpress Account
To sync your Abandoned Cart data please download and install the Unific WooCommerce plugin as per the steps mentioned below
Unific WooCommerce plugin installation steps
1. Download Unific WooCommerce plugin here
2. Go to plugins section in your WordPress Admin and select Add New
3. Select Upload Plugin
4. Choose the downloaded plugin
5. Click Install Now
6. Activate Plugin
If you do not install the Extension, you will not receive abandoned cart data.
________________________________________________________________________
Connection Issues? Please check the following:
WooCommerce 2.2 or newer must be used.
The WooCommerce REST API must be enabled: To enable the REST API within WooCommerce, visit the WooCommerce > Settings > General tab and check the Enable REST API checkbox.
Read/Write permissions must be enabled in the REST API settings.
Pretty Permalinks must be enabled. (Note: They are probably already enabled. Learn More).
If you receive JSON error then you can try this URL format http://storeurl.com/wc-api/v2/ or https://storeurl.com/wc-api/v2/